Google Site Search:
Highlights for 2014
[See previous year's highlights by clicking links at bottom of page.]
OSRP Video on YouTube (LA-UR-12-01743)
Press Releases & News Clippings for 2014
LANL Releases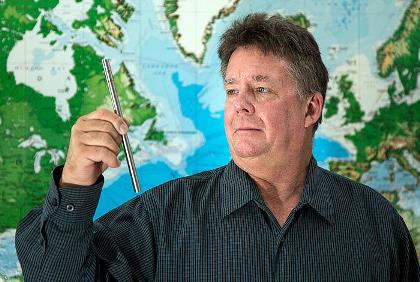 Rick Day of Los Alamos National Laboratory's International Threat Reduction group and the Off-Site Source Recovery Project (OSRP) holds a non-radioactive training mockup of what a typical cobalt-60 source might look like. The source is similar to what OSRP team members recovered from a site in Maryland in late 2014, putting the number of Curies recovered as part of the project above 1 million since the project began in 1999. OSRP recovers and disposes of unwanted radioactive sealed sources, eliminating a potential threat that could be used by terrorists to create "dirty bombs."
DOE/NNSA Releases
Local, National, or International News Clippings
Government Reports & News
Current Highlights | 2021 Highlights | 2020 Highlights | 2019 Highlights | 2018 highlights | 2017 Highlights | 2016 Highlights | 2015 Highlights | 2014 Highlights | 2013 Highlights | 2012 Highlights | 2011 Highlights | 2010 Highlights | 2009 Highlights | 2008 Highlights |2007 Highlights | 2006 Highlights | Archives